Reviewing Social Activity
In this topic you will learn how to review the social activity for a video.
To review the social activity for a video, follow these steps:
Open the Media module.
Click on the video card (card view) or the video name (list view). The video details page will open.
Click the Social activity tab at the top of the page.
All social activity for the video will be displayed. This includes manual posts to social media as well as any auto sync activity that may have occurred. The DESTINATION dropdown can be used to filter the list based upon the social destination that was used.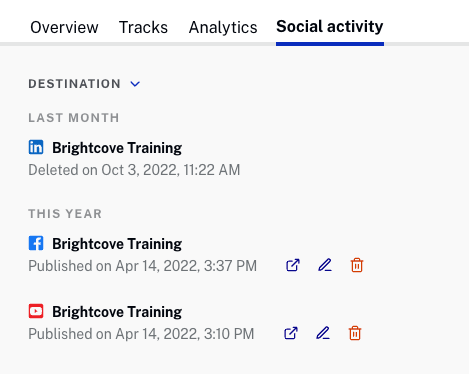 Click the external link icon (

) to view the social media post in another browser tab. Click the edit icon (

) to edit the post or click the delete icon (

) to remove the post.
When editing a post, only the fields that can be edited will be enabled. If a field is disabled, it cannot be edited by the social platform.
To return to the list of videos, click the Back to Videos link on the left side of the page.